Rain - 10/16/2005

Today was the big day that the motor was supposed to run. We had it all planned out. Everything was going to go together and we were going to fire it. The ignition key turns the solenoid and runs the starter (quite well actually).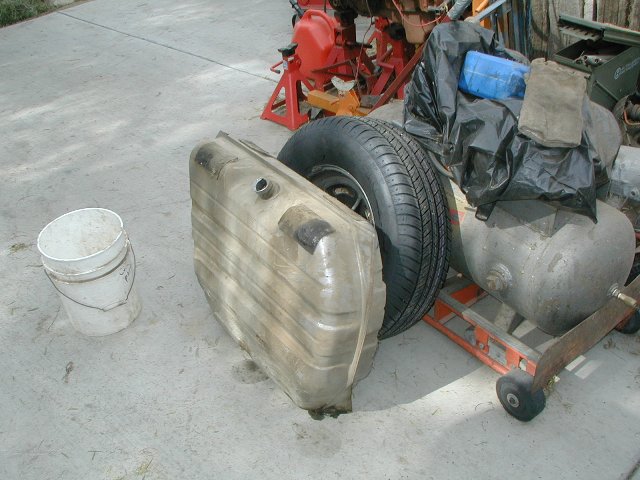 We decided to put gas in the car to assist in the firing up of the motor (since gas is useful whatnot). Well, the tank has a very small crack along the seam at the very back. Someone bottomed out the car WAY too much and busted the weld. Dana and Dean suggested POR gas tank fix. I think I'd rather not trust my life and the life of others to a sludge that is supposed to seal it from within. Steve is dropping the tank off tomorrow to get fixed (find a new one? Yeah right). Old locking gas cap was removed just in time, the lock tumblers seized as I was pulling it off this morning, so we have to buy a new one. From NAPA, no one else acknowledge it's existence. We went to Autozone and the guy was sorry, but couldn't help.

SIDE BAR

We went to Kragen and the dumb bitch (yes, she was. All you femi-nazis can hate me for calling it like it is) behind the counter kept bitching about not wanting to be at work and arguing about getting her drink filled up and getting pizza before she bothered to help us. Then after not finding anything in the computer (since the computer is the wonderful tome of knowledge that knows all, sees all, and is all and if it isn't there THEN IT DOESN'T EXIST) she said "um, like try a junkyard" as Steve and I were leaving without exchanging customary pleasantries that people in good standing tend to do. Kragen will no longer get my business if I have a say in the matter (not that the loss of one consumer's dollars matter, but it is the principle of the matter). I have no problems with people who have no experience and are young (everyone was young and stupid at one time, I happen to still be) but there are limits to how rude and dumb you can be without needing to be smacked around with a clue by four regardless of age.

END SIDE BAR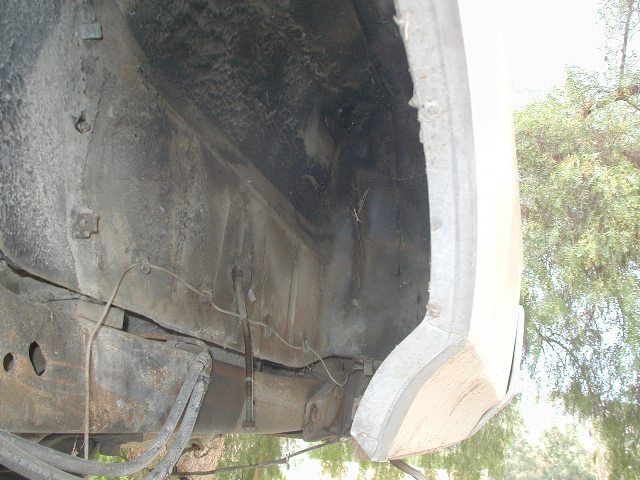 Lots of room up here. Several live black widows too. Steve and Dana kept getting gas dripped on them (it was funny to watch because I've been on the receiving end of it before and know the feeling). Old fuel line is brittle and crumbly, but it's been replaced somewhat recently (note to self, get fuel line). Gas sending unit works great. 97 Ohms at full tank and 2.2 Ohms at empty tank. It's not so much the tank getting bottomed out as the mounting hardware to the tank allowed it to sag a good 2-3 inches, which lead to the tank scraping the bottom once or twice. Not sure why some idiot would allow that to happen. That is probably the reason why this car was parked (and why the tank was so empty and clean).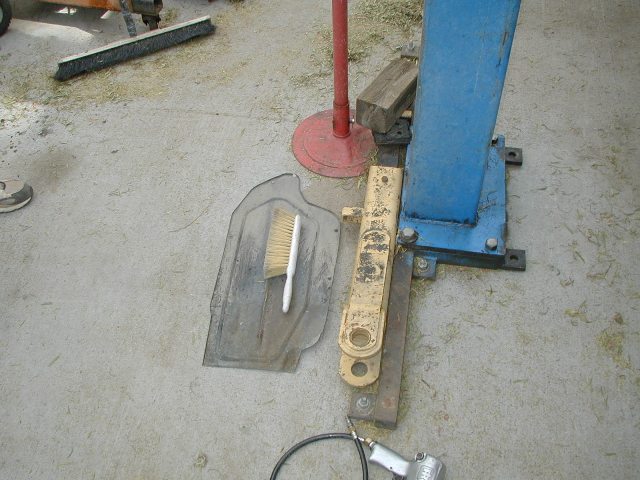 The neat-o removable inner fender to get to the gas tank.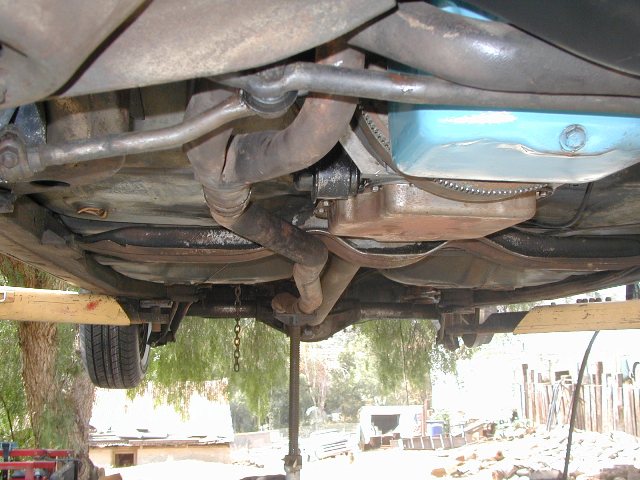 Exhaust is mocked up. New Cherry Bomb Turbo II muffler donated by Dana (nicer than the $15 Autozone one that goes back next Saturday).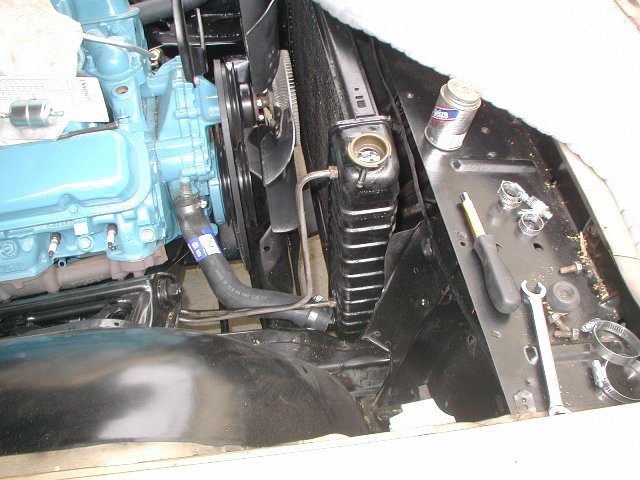 Motor getting put together. Radiator is in. We fought with that lower radiator hose for almost an hour. I don't care what NAPA says, that hose is NOT specific to this car. It's a damn dirty lie (as are most things when working on cars this old). The radiator bends up slightly and there is an interesting little bend to overcome, but we cut it to fit and it should work decently (we hope). One top rubber bumper for the "shroud" fan guard got lost, so Steve got creative and cut one in two piecs and siliconed it together. Very nice looking. There was a piece of a broken fan shroud included with the car, but I think that was the previous owner's clever idea of trying to get rid of his garbage without throwing it in the trash can since it was broken and too small for the car. Alternator wiring mess still needs to be taken care of. Fuel lines and some wiring are all that is left...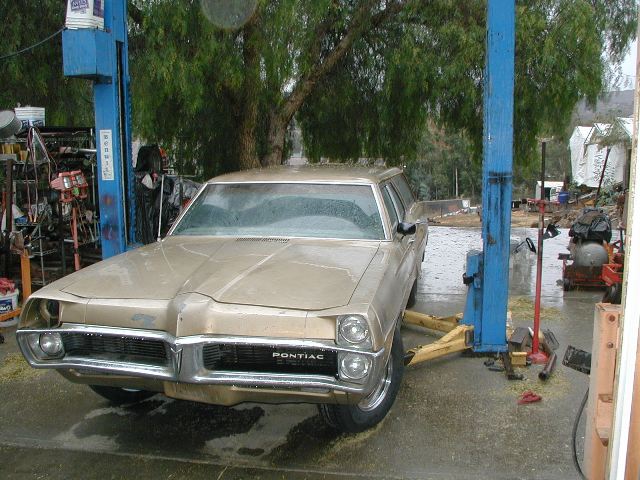 ...and then it rained. Then it stopped. Steve and I went out to get more done. Then it poured. We decided to bleed the brakes. Lots of fun there. Steve got to bleed, I got to ride like the fun rides at Disneyland up and down in the car and push the brake pedal. Lots of milky fluid is now nice and clean. Then we realized the brake adjustments were WAY off (pedal was a little low but firm). Now all is well in the world. We couldn't be redneck or hillbilly and run the car from a gas can since it rained so much. We would have worked much harder and much faster if the gas tank hadn't been leaking. That really put a damper on the plans. But I did find out that the blower motor for the AC blows REALLY well on all of it's settings. The idiot lights work, all gauges work (minus clock). The reverse lights don't work either for some reason. This car is scary since you can put it in gear without the keys being in the ignition (pre-column lock car). The little high beam indicator is a read Indian head that lights up (neat, I'm a sucker for little things, especially the unusual ones). Dash lights for nightime reading all work. Even the little map light works. Need to fix the overhead light and the glovebox light (factory owner's manual actually breaks down what every little bulb in this car is). Now we're really close!

Well, that's all for this week folks. Guess we'll have to see what interesting developments Steve can come up with in my absence (since he REALLY wants his live and driveway back).. The title situation is going to be fun since the guy who owned the car signed it over AND dated the damn thing. Back in 2001. The DMV is going to LOVE us. Yay for more fun at the local DMV...


Back to '67 Catalina

Last updated October 16th, 2005