Arrival and First Glance - 09/05/2013

Found this car on the eBays a while back and after much discussions, decided it could make a formidable replacement for my very broken '72 Lemans because, quite sadly, no one in the area wants to even think about painting a car unless insurance is involved and footing the bill. Car came in today!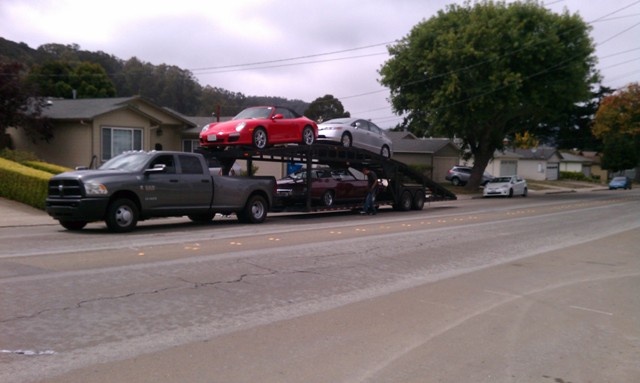 I received a phone call at 12:45PM saying "We have a car for you. Oh by the way, I'm 40 miles away and will be there in an hour." Well poop. Didn't even know it was coming today. Surprise! Had to rush home from work and actually passed the driver in traffic, which was pretty nifty.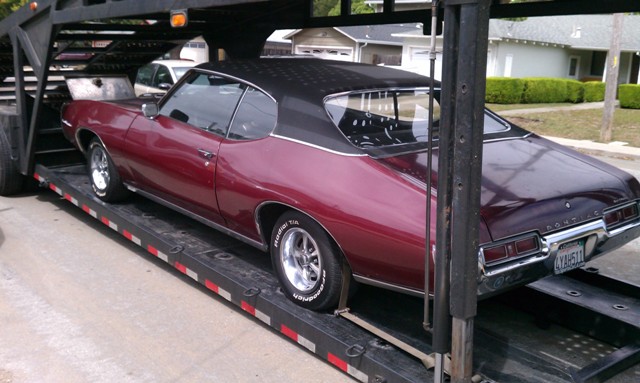 Spiffy!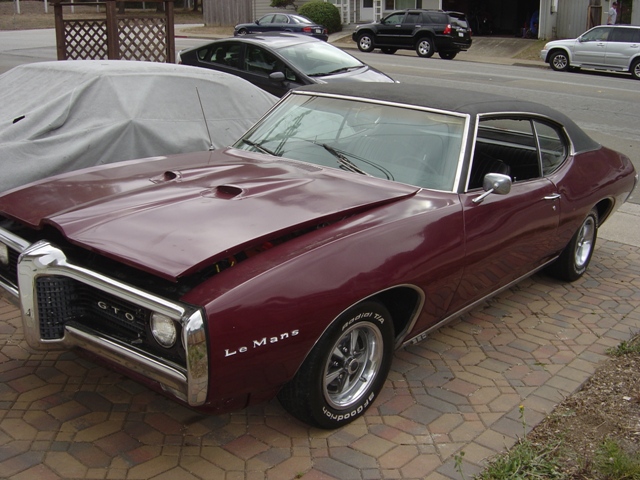 Made it into the driveway (finally!). GTO emblems on front despite being a Lemans, but GTO hood is very cool! Original code 67 Burgundy car, hood came from a yellow car. There is a small bubble on the driver's side fender down by the 350 emblem.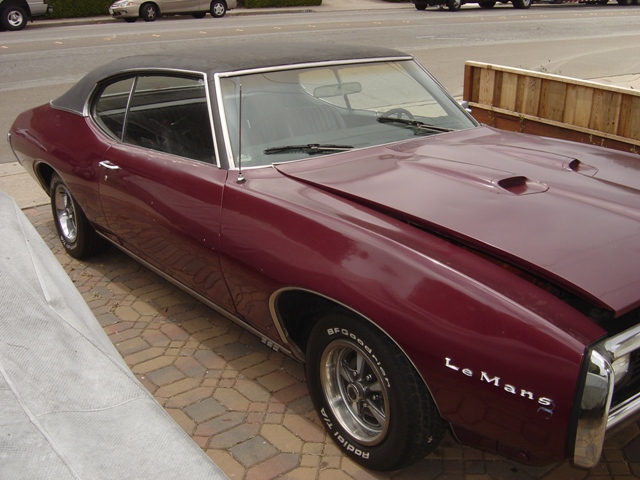 Passenger side is in great shape, no dings or bubbles or anything! Tires are Rally IIs with 215-60R14s on them (a bit old). Antenna got dinged, but that's why GM switched to windshield antennas after this year.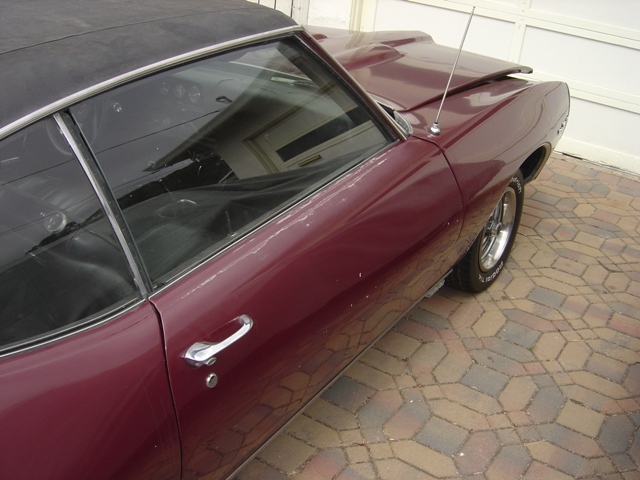 Passenger door has some paint washed off in a spot, this is the worst spot on the entire car.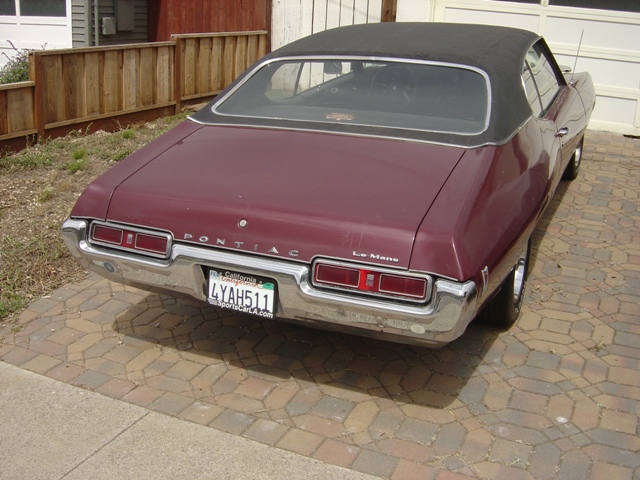 Trunk and bumper are in great shape, tail lights too. Chrome on bumpers in great shape as well.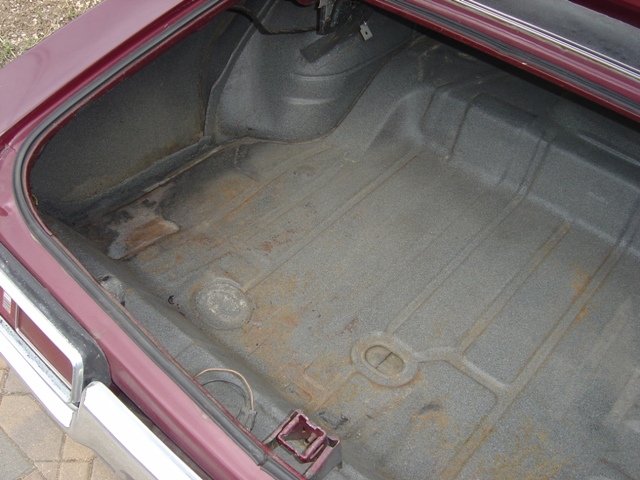 No rust or rot in the trunk, still has the original splatter paint everywhere in the trunk.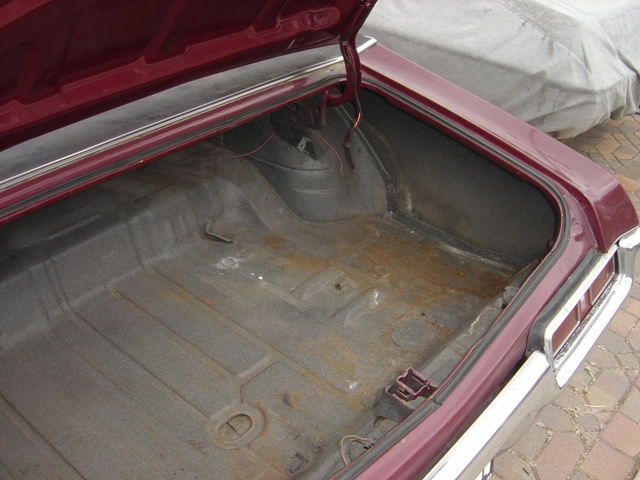 Some water has gotten in, but not very much at all. Shone a flashlight up into the panel between the glass and trunk lid and there isn't any rot or heavy rust in there (despite the vinyl top).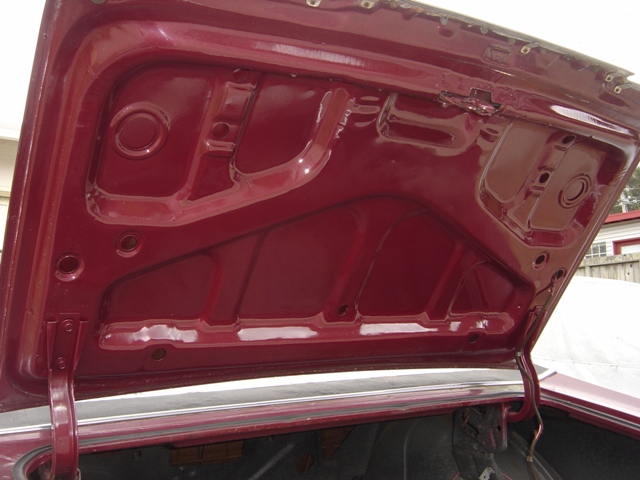 Trunk lid has been repainted and is in good shape. Only 4-5 tiny little bubbles in it, hardly anything worth getting worked up over.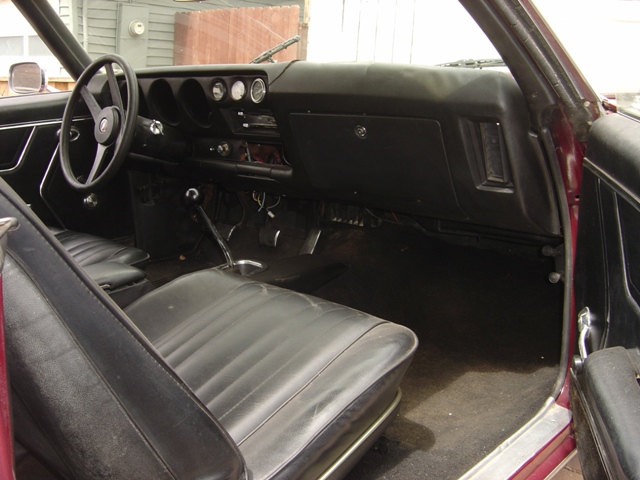 Interior is in pretty good shape. Note hole for aftermarket stereo that has been removed and extra mechanical gauges in the block off spot for AC (this being a heater car). The oil pressure gauge works though!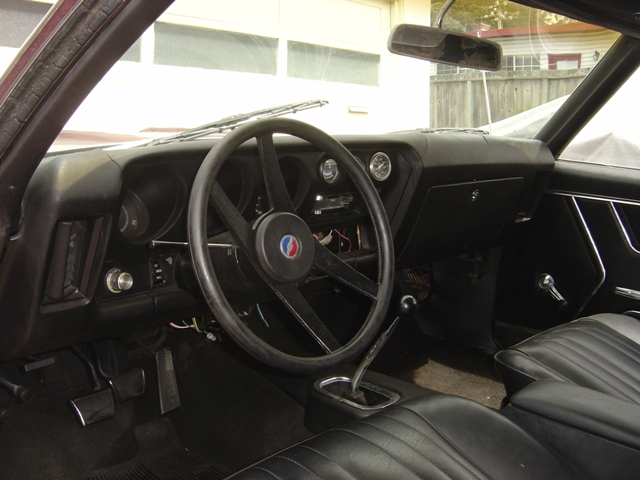 Driver's side in good shape too. None of the dash gauges function in any way, no lights, no idiot lamps, no turn signals, etc. Factory 3 speed floor shifter is cool! Camaro steering wheel HAS to go. I bumped the windshield wiper switch and the wipers came on... and then wouldn't turn off! Oh swell! Need to fix that...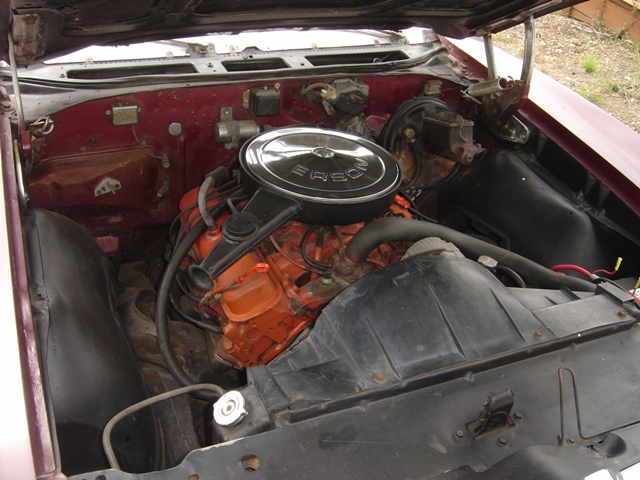 Isn't this special. 350 engine, 47 heads. With headers (don't ask me why). Painted Chevy orange laid on so thick it chips off in chunks with a fingernail (should make it easy to strip the paint). Firewall is painted body color so someone spent a lot of time and effort painting it at one time (factory is black). Power brakes with discs on front though! Chevy 2bbl air cleaner doesn't fit correctly.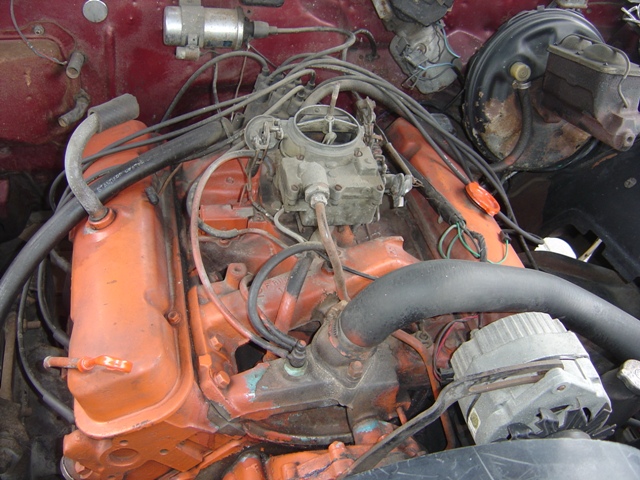 I almost never see an original uncut fuel line on a car this age. 2bbl carb is fun! No vacuum leaks are obvious either. Timing cover is the later 11 bolt variety for ease in water pump locating and the alternator is for a Chevy (clocked upside down and too big). Also has been changed to an internally regulated alternator with no evidence that the harness was modified... so maybe someone replaced the harness at one time? Who knows, lots of digging to be done! Bracket for alternator is an A.I.R. one, but no evidence of A.I.R. here, no holes in the heads or anything. Power steering pump is leaking like crazy too, gotta fix that!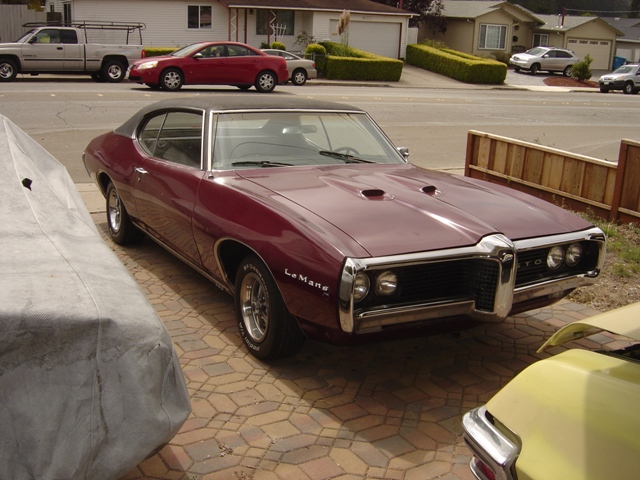 I have too many cars...

Nice! I get to drive a manual transmission Pontiac! I'm excited! The clutch is out of adjustment or worn, as Reverse spins when you try and put it in gear but does eventually go. Clutch pedal also has to be completely down to the floor to be able to shift. Lots of little things to fix, mostly interior and some underhood stuff. And put my 400 from the '75 in it!


Return to 1969 Lemans

Last updated September 5th, 2013