Doors? - 04/09/2016

Dad asked me the other day when I was going to get to this car. Seems like now was a good time, the '67 is resting in the garage needing nothing at the moment that I have to put on it and the '73 is daily duty-ing it up.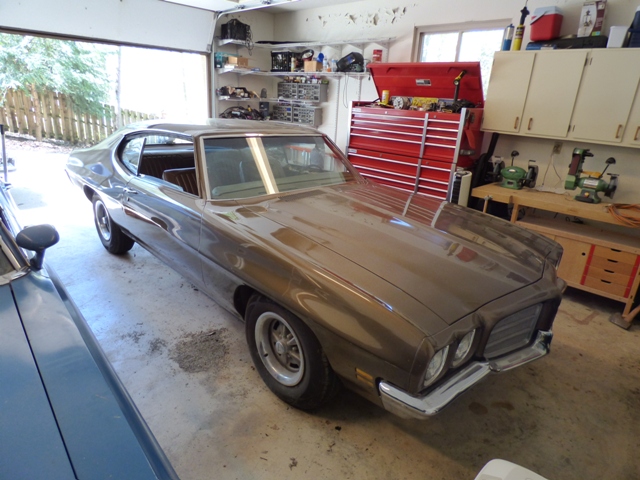 It's sat here in the garage for the last 6 months. I figured today I would inspect the contents of the trunk and put the trim on?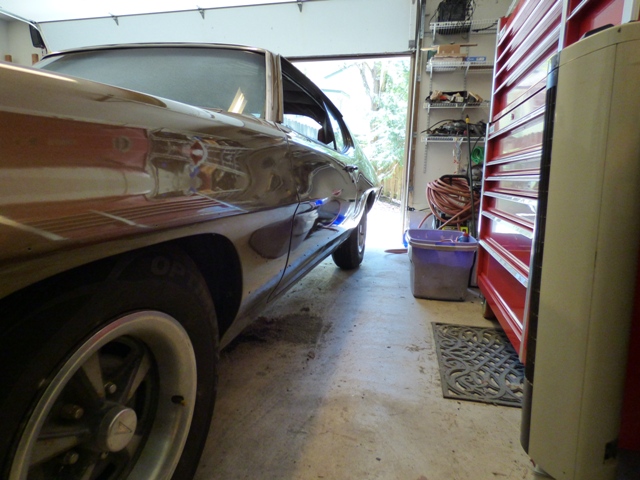 Sides are nice. Problem though. Those holes that run along the upper crease of the fender and door? I don't have anything to put in them. No trim. The emblems for the car? The guy who painted them lost half of everything. And the holes for the emblem? He filled HALF the holes, but didn't do the other half. So I can't put the trim on. I've got a car with pretty paint that has rivets sticking out of it and holes in it and I can't do anything about it. MEH!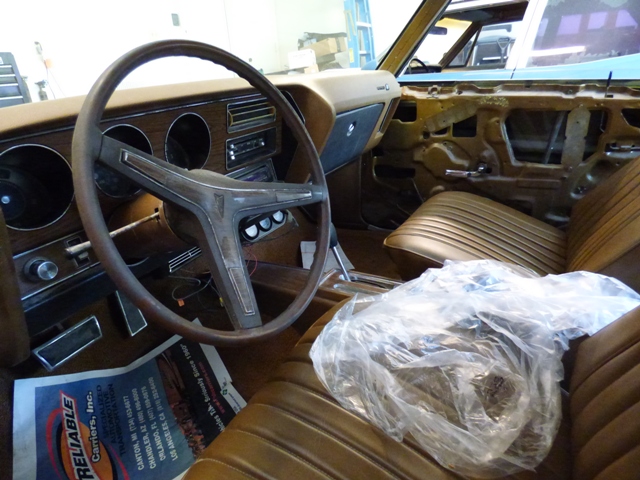 Interior needs some attention. The dash isn't bolted down and the radio is now broken.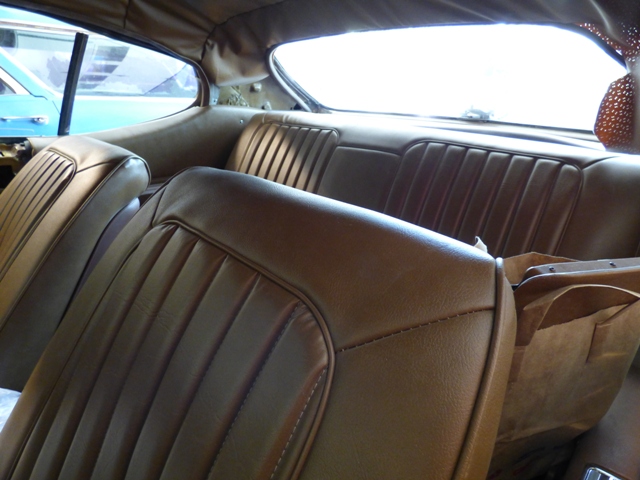 Yup. The previous owner did find a paper bag full of stuff he forgot he still had, so that's a plus.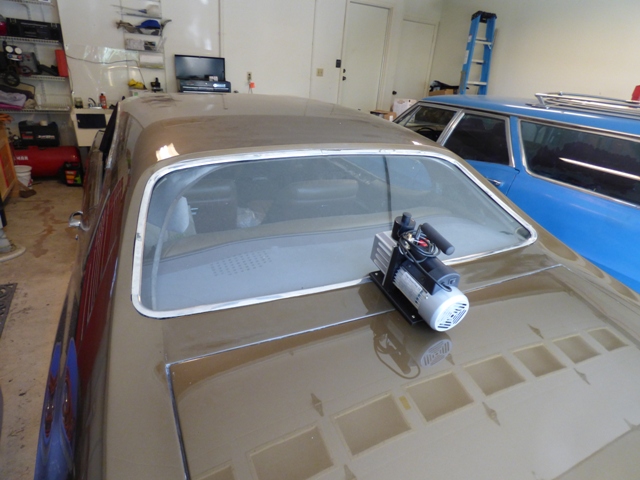 Rear window trim has been straightened out and banged as best into place as possible. The vacuum pump's rubber feet and bending the back 2 pieces to keep them from popping up. That's what happens when you bend the heck out of the trim trying to remove it...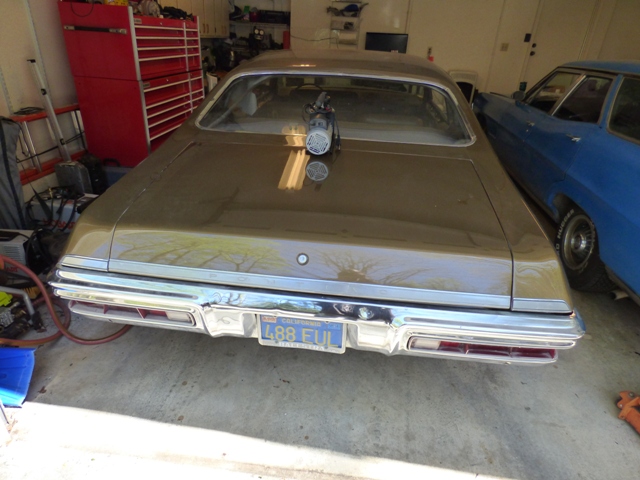 I will say that the bumper is very nice. Rear valence is missing though.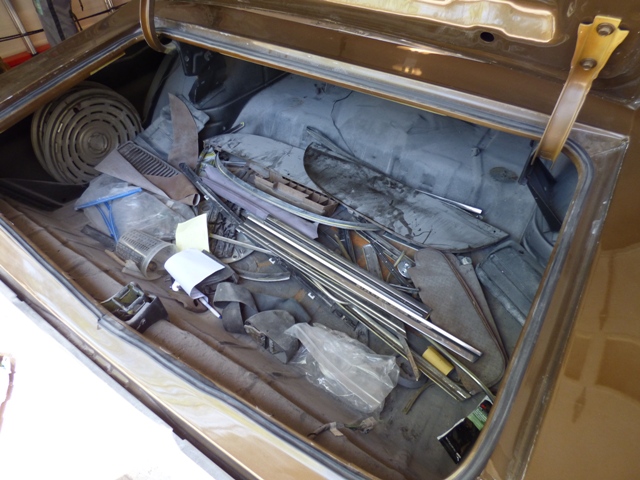 Stuff in the trunk.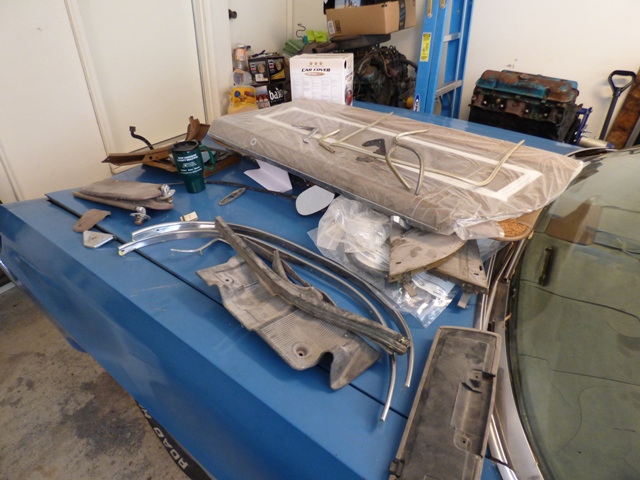 Sorting everything out to determine what I have and what I don't have. So far I have:
1 windshield wiper arm
Both sunvisors
Driver's side mirror not painted
Trim piece for rearview mirror (no mirror itself)
A baggie full of metric bolts (someone else's stuff)
2 baggies full of miscellaneous interior bolts (not eneough for entire car)
1 baggie full of bumper and hinge bolts (spare parts now!)
2 center console lids
Both new door panels (unassembled) and both old door panels (in sad shape)
All seat belts (but no bolts)
Carpet trim cover for pedals
Dome light
Rear seat trim covers for trunk panel
Sail panels
6 out of 12 trim pieces (both front fender trim pieces and the skirt trim)
Both fender skits nicely painted, too bad as they won't be going back on.
1 Luxury Lemans emblem of 2 that were on the car

Not putting any trim on today... Oh well, let's move on to getting the door panels done.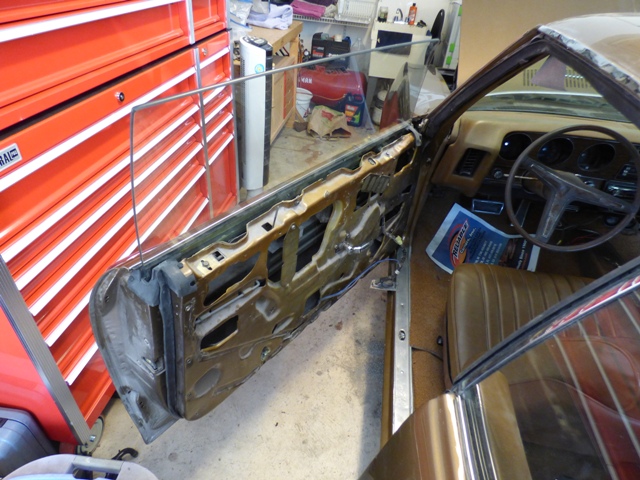 Need to finish the driver's door hardware and align the glass properly.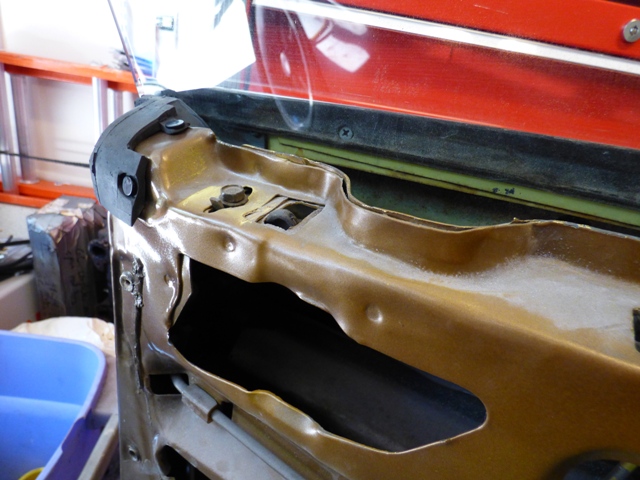 Missing the bracket that goes where they didn't paint the door. Bump stop in rear is good.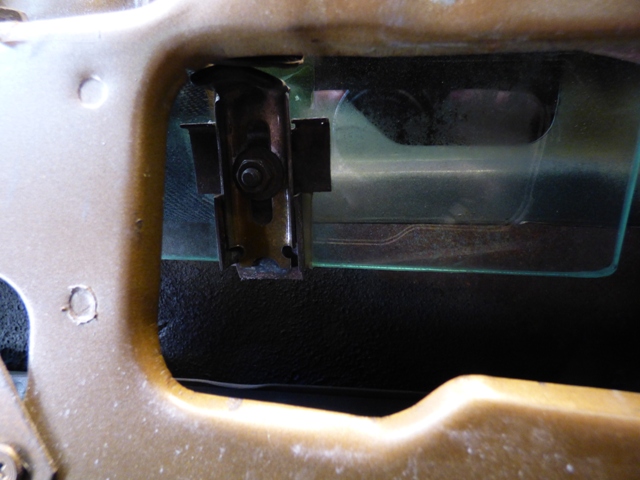 Had to adjust the front bump stop to get the glass to line up.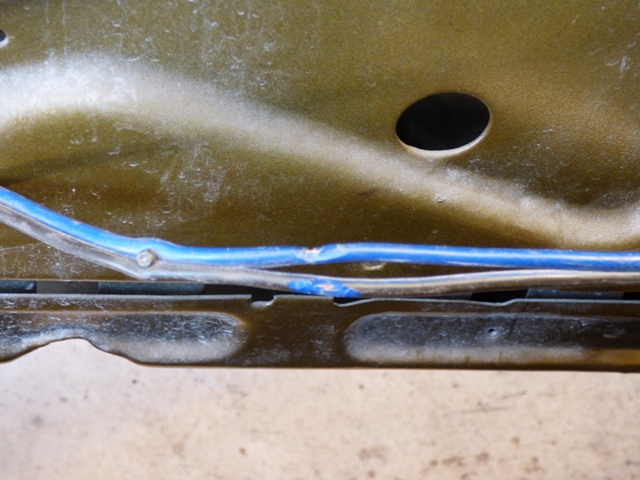 Power window wiring was caught in the motor gear, so it's pinched (yay!). Electrical tape to fix it.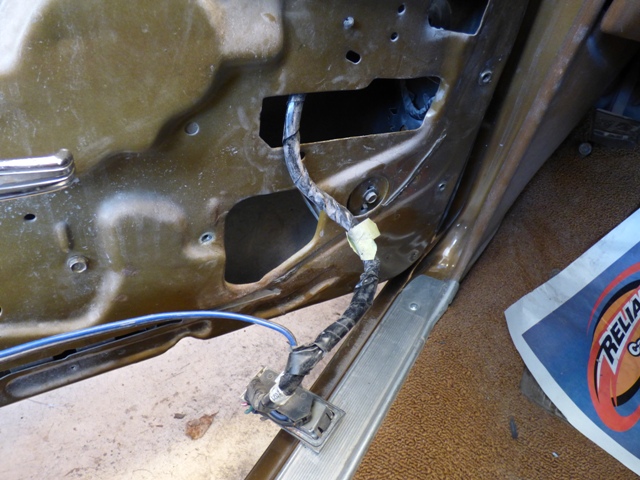 Lining up the wiring as best as possible.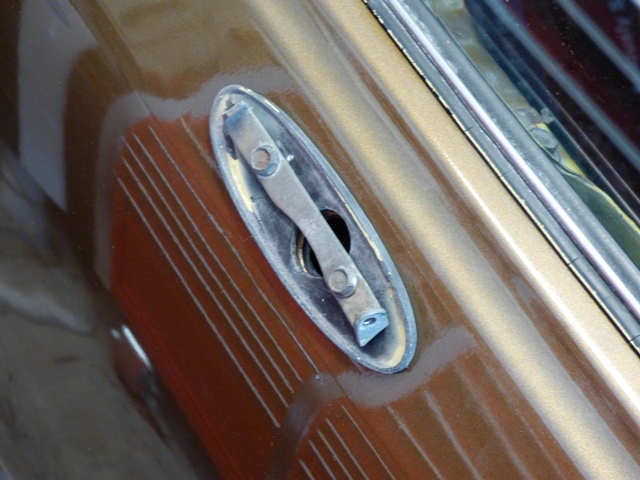 Driver's side mirror mounting hardware installed.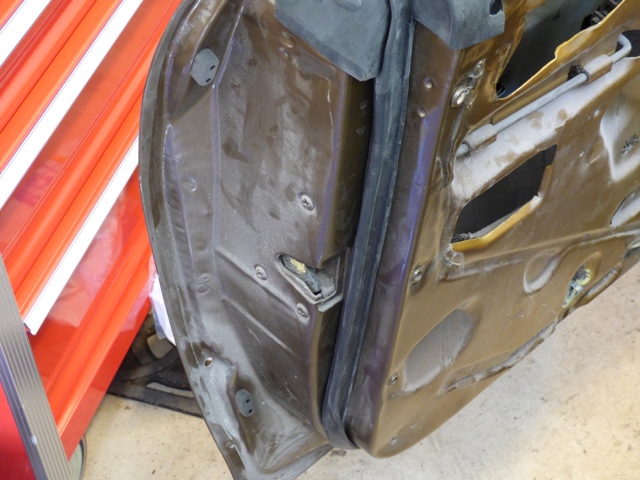 Door bumpers installed to keep rattles down.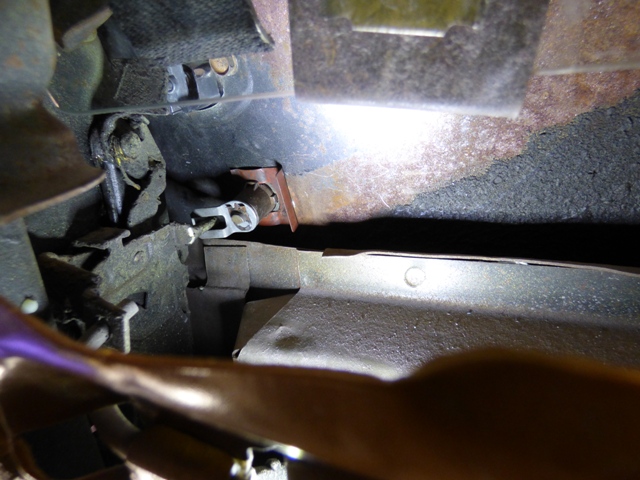 Driver's side lock installed correctly. The painter put it in... wrong. He swapped sides and jammed it in with some goo. I pulled both out, cleaned them, and then put the proper retaining clip on to hold it in place. Only had one clip in the bag, good thing I have 2 parts cars worth of bolts and brackets on the shelf nearby.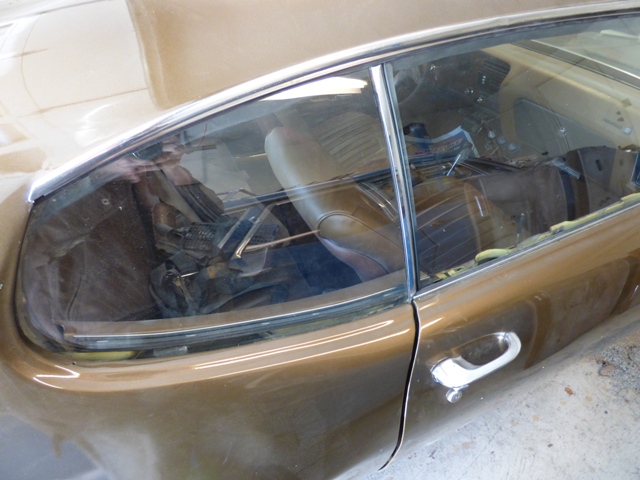 Passenger door glass is aligned. That quarter window still missing the rubber trim.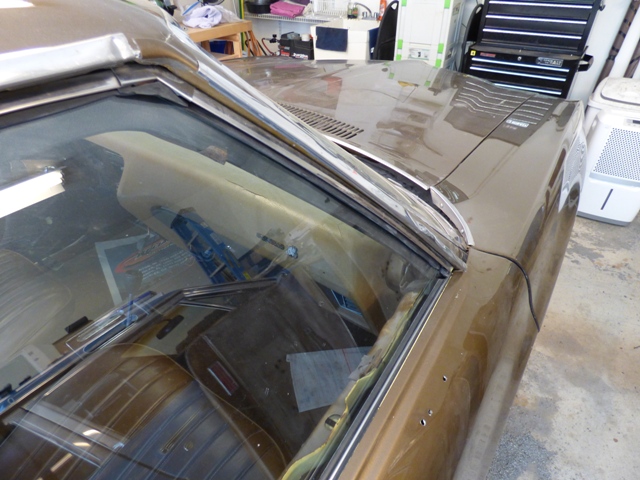 Passenger door glass is aligned up front.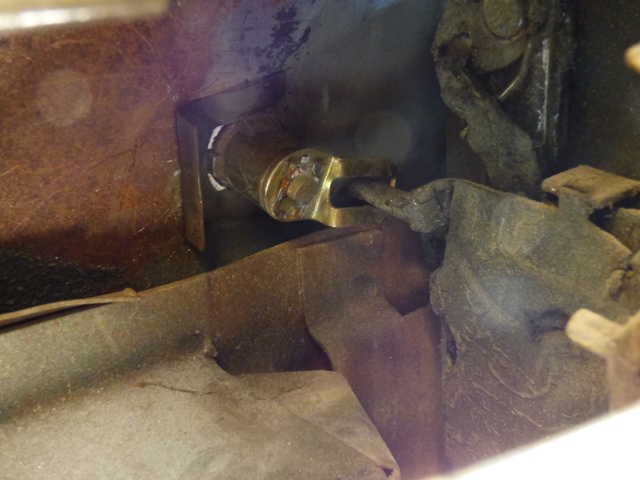 Passenger door lock is installed correctly.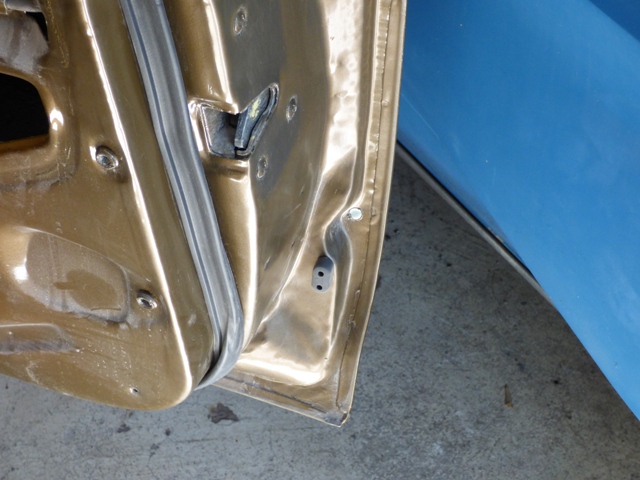 Passenger door bumper installed, only 1 since there were only 3 in the bag...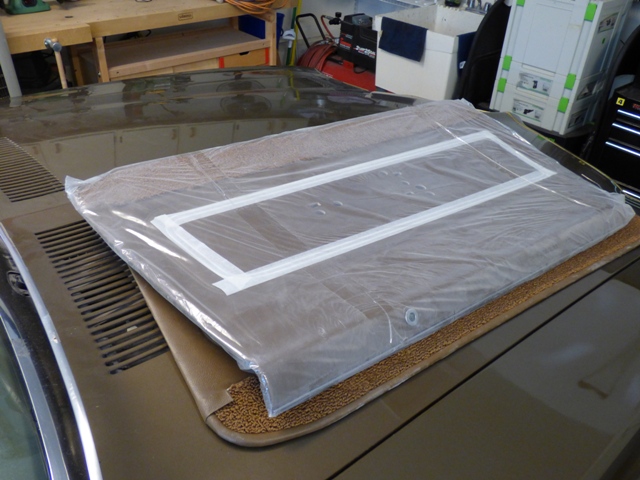 New door panels are ready.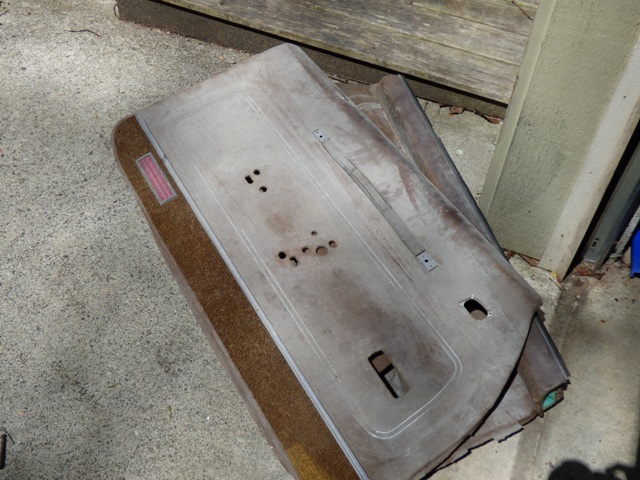 Poor old door panels...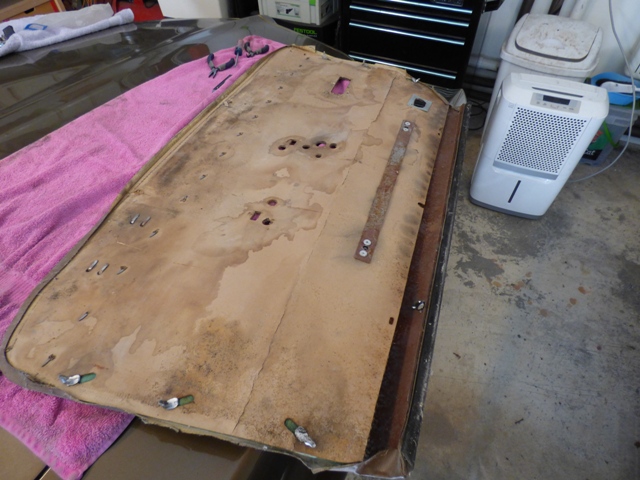 Disassembly of the old door panels stopped early due to sticking screws. PB Blaster liberally sprayed.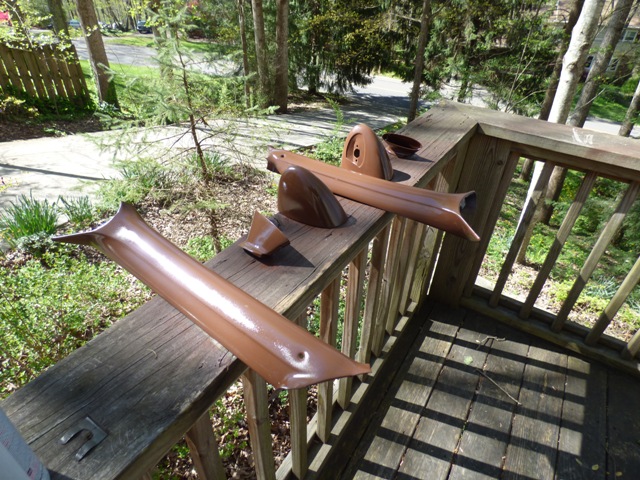 Painted up some spare parts to at least try and make them look better.

Frustrating day of angst. At least the door hardware is coming along, the engine runs really well still despite the pump shot on the carb having failed.


Return to 1972 Lemans Page

Last updated April 9th, 2016