Engine Rebuild - Part 1 - 03/09/2005

Since developing a nasty noise, I had driven the car next to no distance. It would likely require expensive rebuild work. Lisa finally convinced me to take it in and get it done up proper. Dennis MacDonald of D-Mac Automotive in Escondido was recommended by virtually everyone in the Pontiac world as the man for the job. I called him up one day back in January and liked what I heard, so I finally managed to get time off from work to run the car up there. Stevie Ray from ClassicalPontiac volunteered to run me up there for a fraction of the cost of getting it towed. I would have Mac pull the motor and transmission (for a fraction of the cost and time it would take me to do it myself) and let me pick up the transmission to drop it off at the TH-400 man of town, Walt Bilt Transmission. According to him, turnaround time is two weeks for a Pontiac motor (beats some people having to wait 2-3 months).

Mac had a good idea of what I was looking for and recommended a decent build that will really wake it up while still keeping good vacuum and manners for driving in regular traffic.

His recommendations were:
1. 72 intake since the EGR causes cracked intakes, exhaust leaks and he thinks it's a bad idea to have it if you don't need it (can't argue with that).
2. Balance and assemble
3. ARP Rods & Bolts as the rods were undersized from the factory and after 35 years they are likely not in great shape.
4. Forged TRW Pistons adds only $300, which is barely the cost of the pistons themselves from a re-seller.
5. Cam & lifter kit for $165 (barely the cost from anywhere else). Basically bump the cam up two notches from stock (new cam, not a regrind of the existing one) for something like .474 intake and .430 exhaust lift (forgot the overlap, he said it was "a step above the factory 67-68 cams). I'll update it when I get the card for truly accurate information.
6. Double roller chain & 60 lb oil pump. He says other places may cost extra on these items, but he throws them in for free because he knows they are better than anything else.
7. Check wires because oil saturated from the leaking can cause them to go bad.
8. Mac recommends a 2000 stall converter with the transmission and motor combination.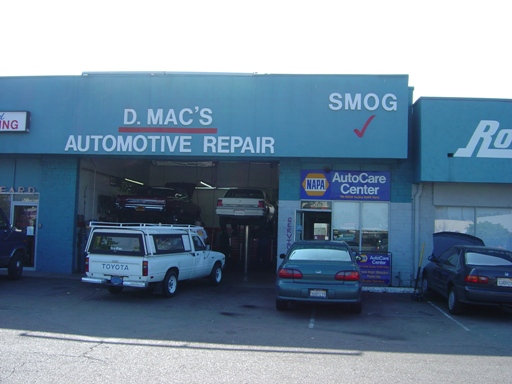 Mac's shop.

I dropped it off on a Tuesday afternoon (02/28). Mac said he wouldn't be able to get to it due to the weather setting previous business back a bit until sometime the next week. Lo and behold I get a call on Sunday afternoon telling me he is ready for me to pick it up. I was definitely impressed.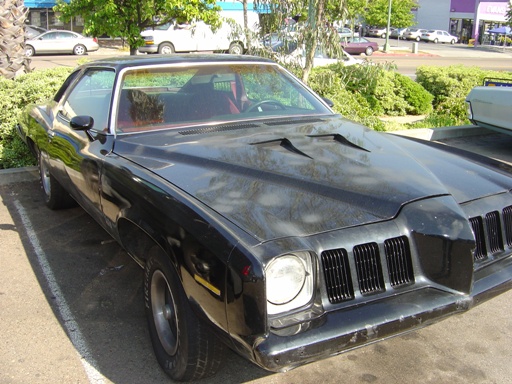 Empty car. Sits about 10" higher than normal. Losing 800lbs from your frame would make things stop sagging too!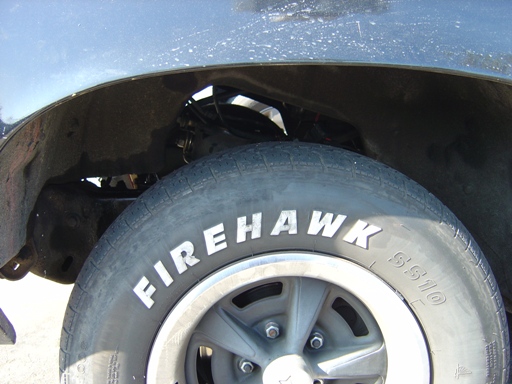 It really is empty!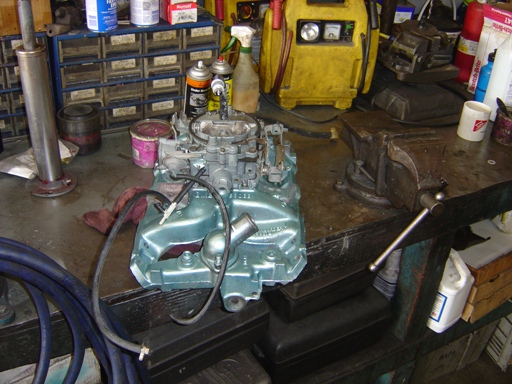 '72 intake cleaned and painted with carb cleaned up and restored. Nice.

I'd have taken pictures of the motor, but Mac already sent them to the machine shop (he works quick!). The transmission went over to Oceanside for rebuild work Tuesday and Gary said they should have it ready by Friday. Their quick service was also impressive. I dropped it off and they said they would call when they got to it. I got a phone call on the way home. Apparently the frictions and clutches are all gone and all of the internal soft parts are being replaced. The intermediate drum was also shot and a heavy duty version is going in place of the stock one. They had some trouble with the torque converter selection as they didn't think I needed that high, but when they called today asking a question, I referred them to Mac since he had the car and would be better able to tell since he could go look at the parts they were asking about. Never got a call back, so I assume everything is fine. Time will tell...


Return to Grand Am Page

Last updated March 9th, 2005